Walk 10 - Blackwater
At about 9.00am on the morning of the murder Jack Pryor from Mount Hawke went to visit Hoare about a horse that had died and he knew Hoare bought carcasses. He looked over the garden wall from the road and saw Laura Sara lying face down. He could hear her breathing and her head was bleeding. He shouted to Hoare and on getting no reply ran to a neighbouring farm.
When Pryor, the neighbour and P. C. Stephens from Blackwater reached the house they found Sara struggling to get up on her hands and knees; she was wearing her nightdress. Hoare was then found lying near a small wicket gate; he was fully dressed and around his neck was a sack which was pulled up over his head. Both were still living but had serious head injuries. Hoare and Sara were taken indoors and Doctor Forsyth from Chacewater was sent for but both died before he arrived.
Enquiries by the local police started immediately and Scotland Yard was called for. The initial inquest on 27th January was adjourned until 12th February when it was held at the Blackwater Men's Institute with Mr A. J. Whale, the Blackwater School Headmaster, foreman of the jury. The jury's decision was arrived at by a majority of seven out of eight: "a verdict of wilful murder by some person or persons unknown". The couple were buried at St Peter's Church, Mithian. In 2004 Carlton Television featured this crime in its series 'Murder Most Foul'.
Wheal Concord
G Retrace your steps, walk back to and pass the narrow lane, continuing on the road. Shortly, on your left, you will see the wooden headgear of a mine. Here the mines Wheal
Concord and Wheal Briton stand alongside the road which leads from Skinners Bottom to the top of Blackwater North Hill. Wheal Briton closed in 1791 but was reopened in 1810, the same year that work resumed at Concord. The mines then combined and in 1860 The Wheal Concord Silver, Lead and Copper Mining Company Limited was formed but within a couple of years the low price of tin caused it to close. It was thought that operations had ceased forever but, under the leadership of Nicholas Warrell from Falmouth and guidance of Jack Trounson, Wheal Concord again began to produce tin in the 1980s. After a great deal of clearance and preparatory work, and with St Piran's flag flying from the headgear, the mine began to yield up its tin. In December 1981 Prince Charles paid a visit to Concord and descended into the workings. He was glowing in his comments applauding the initiative. The project was, however, short-lived and closed within a few years.
Methodist Chapel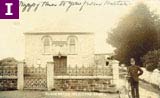 Continue along the tarmac road, passing the remains of a railway bridge H. Go straight across the crossroads (you are crossing North Hill) and after 75 metres turn right down the first lane. Follow this lane (which starts wide enough for cars but switches to the width of a footpath) until you reach a house named 'Kaimai' directly in front of you. Turning right here brings you out opposite the side of the Blackwater Methodist Chapel I. Turn left onto the lane that runs past the Chapel . Opened in 1825, this was the successor to a much simpler 18th century chapel destroyed by fire in 1821. The new chapel was a plain, earth floored building: men sat on one side and women on the other. A gallery was added in 1832 and, to mark its approaching centenary, a new pipe organ was installed in 1923. The last service was conducted on 28th April 1985. Subsequently the building has been used as an office, auction room, and a dwelling. When you exit the lane turn left which will lead you back to the post office.
Any direct quotations from "A History of Blackwater" are with the kind permission of the authors, Clive Benney and Tony Mansell.