Walk 5 - Mount Hawke
A very varied walk; a sylvan valley and stark uplands. Some areas can be muddy particularly near the start, hence the walk should be undertaken with appropriate footwear.
Start the walk at Banns on the North West outskirts of Mount Hawke.
Take the path just uphill of a cottage called "Rill Cottage" on the right and opposite Vale Cottage.
Upon commencing the walk, one soon encounters the worst mud, but this is quickly past. The track descends gently to border a stream on the right. Observe the adit on the left A, water from which has never been known to fail and is a recognised potential emergency supply.
You now enter an area known locally as "Parc Shady" B. It is easy to see how it acquired this name. After a few hundred metres you see a simple bridge of two granite lintels C. Ignore this (you'll see it again later!). Continue on to a more open area where one crosses the stream (there is no bridge).
Having crossed the stream, continue on the well defined track, you will shortly pass the wastewater treatment plant to your left. Note the extensive spoil heaps above on right.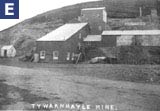 Passing a small market garden on the left you come to a metalled road. Just at the junction you will see on the right the foundations of the "Elmore Flotation Plant" E; a 'new to Cornwall' ore separation technique used by the short lived reopening of the Tywarnhale Mine in 1907. This used electric power, another first for Tywarnhale, generated in a building we'll soon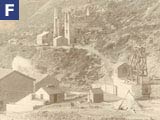 pass as we turn right onto the road. The Power House F was used by the Royal School of Mines for many years as a workshop and store. The generators in this building were powered by gas engines using gas produced on site from coal brought from Portreath harbour.