Walk 10 - Blackwater
Blackwater can be approached from various directions but most easily from the A30 at Chiverton Cross roundabout. Take the exit signed to Blackwater. Pass the filling stations and go down the long hill that leads to the village. Look for the Post Office on your right which is the starting point of the walk.
The Institute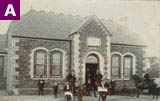 Walk due west along the main road, away from Chiverton Cross. After a couple of hundred metres you will see, on the other side of the road, an old building that edges the road, presenting its side to you A. This is the Blackwater Institute as it is commonly known, originally the Blackwater Lecture and Reading Room.
The Institute dates from 1890 and was donated to the inhabitants of Blackwater by John Passmore Edwards (1823-1911), a London newspaper proprietor and philanthropist who was born in Blackwater, in a cottage in Back Lane which today runs beside the Institute.
Between 1889 and 1904 John Passmore Edwards financed the construction of 72 public buildings, many in his native Cornwall, including the Miners' and Mechanics' Institute in St Agnes Village (see Walk 1) and the Village Hall in Mithian (see Walk 6).
But it was the Blackwater building that began the chain of donations. The Revd Fursdon Rogers of Mithian Church wrote to John Passmore Edwards asking for books for the people of Blackwater. Coming from a poor family, Edwards had struggled to raise money to buy books with which to supplement the basic education he had received from the local school. He had also joined the Reading Society in nearby Chacewater. So, when he received the request for books, he went one better and provided both books and a building for use as a library and reading room.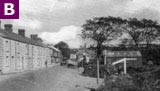 Subsequent use of the building includes it being a concert hall, a general meeting place for the village, and the home of the Blackwater Mens' Institute, hence the name today.
The Red Lion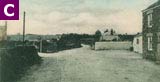 Continue walking west past the garage B and you will soon approach the Red Lion Public House C where you might wish to enjoy a drink at the end of your walk. In days past there were four pubs in Blackwater itself: The Red Lion, The Spread Eagle, The Cornish Miners Inn, and Clinton House.