Walk 10 - Blackwater
The Railway
Continue walking west and pass the sign advertising a picture framing service.
Almost immediately you will see embankments covered in rhododendrons D on both sides of the road. These were planted at the instigation of John Oates, headmaster of Blackwater school for 41 years from 1878. The embankments were created to support the railway bridge that passed over the Blackwater road at this point but they were unattractive and the headmaster came up with a planting scheme which solved the problem then and left a colourful legacy to the present day.
The railway line was the Chacewater to Newquay branch line and its first section opened in 1903. It left the main line at Chacewater, crossed the Blackwater road, and continued through cuttings until it reached Mount Hawke near Gover Farm (see Walk 5). It then swept south of St Agnes, along a route parallel to Goonbell until it left the Parish east of Mithian (see Walk 6).
Sixty years later the branch line was closed as part of Dr Beeching's package of railway economies. The railway bridge itself was demolished in 1972.
Remains of the line can still be seen quite clearly in many locations and the curve of the branch line is marked on Ordnance Survey maps. What used to be a station building is to be seen near St Agnes in the small industrial estate south of Presingoll Barns.
Skinners bottom - Murder House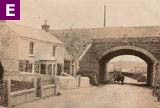 About 25 metres past the embankment you will see a narrow lane on the right, between white dwarf walls, next to a house called Roseland Villa E. Follow this lane (quite a long walk) until you reach a tarmac road. Turn left down this road (which leads to Skinners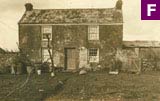 Bottom) and look for the first house on your right F. Now called Concord Farm and considerably extended and improved, it is the site of a double murder that took place in 1920 and has still not been solved.
Joseph Charles Hoare, a cattle and horse dealer aged 57, and his common law wife, Laura Sara, aged 45, were bludgeoned to death on Sunday 25th January 1920 at their cottage, then called Seaview.