Walk 7 - Wheal Coates, Chapel Porth, Wheal Lawrence Valley and Goonvrea
Towanroath Shaft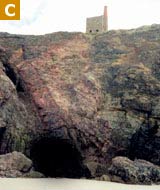 Find the steps at the left-hand side of the main engine-house and follow the path which leads to the lower cliff path, Towanroath shaft and the pumping engine-house. This shaft drops into the back of a cave which at low spring tides can be entered from the beach C. Walk a few metres along the path towards the west. If you look South-west along the coast you will see the inlets at Porthtowan and Portreath. Further still are North Cliffs and Godrevy Lighthouse on its island, the inspiration for Virginia Woolf's "To the Lighthouse". Behind Godrevy is the curve of St. Ives Bay. In the other direction, the nearest headland is Tubby's Point, where a "kitchen midden" (heap) of shells suggests how important seafood was in the local diet of prehistoric times. Between Tubby's Point and St Agnes Head, Mesolithic flint flakes and scrapers can still be found providing further evidence of early human activity in the area.
Towanroath to White Rocks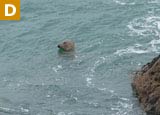 Walk along the path west from the engine-house, checking occasionally for movement in or above the sea. If the latter is calm enough and the tide is full, you may be lucky and see one or more seals fishing or "bottling" (hanging in the water with their heads just above the surface) D. And if you are particularly fortunate, you might see a school of dolphins, or in the summer, even a huge and harmless basking shark cruising past.
Birds are always present. In late summer the local jackdaws and pipits are joined on the heathland by migrating wheatears which often run along the paths. At any time of year you are likely to see a kestrel hovering above the cliffs; peregrine falcons also come hunting from their breeding site a couple of miles away. As well as herring gulls, blackback gulls, kittiwakes and fulmars frequent this stretch of coast. shags and cormorants and flocks of oyster-catchers may also be seen flying low over the water. The most spectacular display however is provided by gannets which plummet from a great height on to unsuspecting fish. As you walk towards Chapel Porth look carefully at the edge of the path nearest to the sea. Among the thrift, wild carrot and heather, you'll see a low-growing plant with dark green leathery leaves; this is madder, the roots of which were traditionally used to produce a pink dye.