Walk 5 - Mount Hawke
Take care, this is a busy road but we only follow it for about 200 yards. Just past the Towan Cross sign opposite, turn right into lane marked Trevissick Farm. Follow this metalled lane passing buildings to the right on to a grassy track to the left just before the double gateposts. This track becomes stony, slopes downhill and is steep in places. Minding the loose surface, go straight on to the granite bridge seen earlier.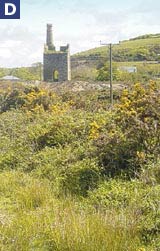 Now, if you are tired you can turn left back through Parc Shady to the starting point, however our walk turns right and then almost immediately left, going uphill. As you ascend, take time to pause and look across to the castellated stack of Wheal Ellen D: one of only two such in Cornwall. Near this was the so called Navvy Pit H, now filled in with rubble from the also defunct Wheal Concorde mine; the result of a failed attempt at revival in the 1980s (see walk 10).
Navvy Pit was part of Wheal Music which was the largest open-cast copper mine in Europe, where in addition to ores of copper, native copper (metallic form) was found. Examples of this are to be seen in Truro museum.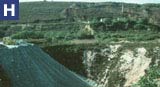 Continue to follow the track up the hill passing a small chalet park on your left until you reach the road. Turn left and at the crossroads in about 100 metres turn left again, continue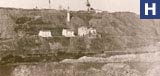 through Mount Hawke passing the shops and Methodist Church.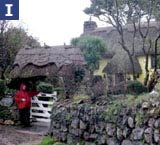 Unless you wish to take a detour to the pub for refreshments, when the main road turns to the right, carry straight on, passing the post office and W I Hall. Your starting point is now only a couple of hundred metres ahead.