Walk 2 - St Agnes Beacon
Retrace your steps to the smaller of the two rock outcrops and follow the path, which leads downhill in front of you. In summer this is a purple and yellow patchwork of bell heather, dwarf gorse and ling. At the bottom of the slope turn right towards a gate but then almost immediately turn downhill through gorse bushes in a small dip and towards a shallow former mine working on the left (marked with a warning post). This will lead you to a lane and a garden entrance on your left. Veer right, down the lane, and after 100 metres turn right as you meet a road, Beacon Drive. Continue for 800 metres (1/2 mile) until on a bend, with willow bushes on your left, you see the entrance to Wheal Coates National Trust car park.
Wheal Coates
Turn left, following the track that starts in the far left of the car park, towards the mine buildings. A quote from the National Trust leaflet 'Wheal Coates and Chapel Porth', helps to explain why tin and copper mining became so important in this area: - 'Beneath the Beacon is a boss of granite, pushed up red hot from the earth's core about 275 million years ago. The tremendous heat and pressure affected the overlying and surrounding Killas rocks; later volatile gases and liquids were forced up through the fissures altering the rocks' chemical composition. Ores of tin ,copper, silver, lead, zinc and wolfram were formed'.
Pits and bumps on the right of the path suggest mediaeval surface working, but the buildings date from the nineteenth century. The mine worked sporadically between the 1820s and 1914. The National Trust has attached a useful information board to the Whim engine house wall, describing the functions of all the ruined buildings. The largest engine house on the upper level contained a beam engine which pulled the ores to the surface and also powered stamps which crushed the ore B.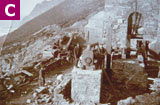 Look for the steps to the left of this building leading to the path which drops towards the lower engine house by Towanroath shaft C. This building was erected in 1872 to hold a pumping engine to prevent flooding in the mine. There are records of 335 tons of 9% copper ore and 700 tons of tin ore being produced in 1836 and 1861-89. In 1912, 17 tons of black tin was the final output.
Follow the path downwards; on the second hairpin bend turn right onto a way-marked path which leads you northwest towards a pole with iron footholds on the side. This was used in the past by the coast-guards as a rocket-firing mark when they were practising use of the life saving apparatus called the Breeches Buoy.
The path joins another which runs along by a field hedge then across open heath-land. As you approach the rocky outcrop of St Agnes Head, bear right towards the car park. Follow the tarmac road which passes, on your left, the old Coast Guard look-out hut which was closed in 1990. Look inland and you will see the modern buildings of Newdowns sand and clay quarry. Some time between 2 and 5 million years ago, St Agnes Beacon was an island bounded on the west by a wave-cut platform at 120 metres (about 400 feet) above modern sea level. Old mining activity found evidence of a wavesmoothed sea cliff and sea-washed pebbles and boulders at about the level of the road which now circles the North West side of the Beacon