Walk 1 - St.Agnes Village Trail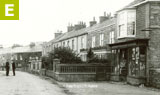 On your right, between the Cornwall Café and Sally's Bistro E, stands a corner shop, latterly a shoe shop, but in the early 20th century it belonged to Thomas Delbridge, confectioner and shipping agent F. From the mid-19th century until mining in St. Agnes all but ended, just before World War 1, it was here that many miners bought their passage to hard rock mining regions around the world. In 1905, for example, one special rate on offer was New York for £2.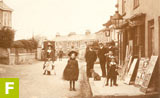 Some returned, but many did not. Listen, someone is crying. John Carter is saying goodbye before returning to Kapunda in South Australia "All day visiting and saying good bye to my dear friends, some of whom cleave to me and kissed me in tears. Spent some time with my dear aged Aunt Mary and kissed her a last goodbye for this life. 'Tis sad to say farewell."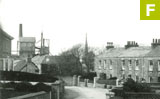 Continuing along Vicarage Road, to your left, behind the Pottery, stands a roofless engine house (the only one of West Kitty's three engine houses still standing) built in 1892 to house a 40" (cylinder diameter) beam engine used to pump water out of the southern end of West Kitty Mine at Thomas' Shaft G. The engine is today held in storage by the Science Museum in London. Religion and singing were important to many of the miners who worked here. As they emerged from the mine at the end of their "core" (shift) it was not uncommon for someone to strike up a tune and as each man left his level to join the ascending throng, the shaft would fill with the rich sound of men's voices in harmony. Needless to say, West Kitty Mine had a male voice choir H, its conductor, John Angwin.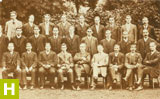 One "pare" of miners even composed a Christmas carol underground on the lid of a dynamite box. Known as John Rogers' Carol, this simple tune is still occasionally played in the Church at St. Agnes. Listen. "Ring out the bells..." Merry Christmas!
Feel, through the soles of your feet, a double blast from underground, perhaps a signal to one miner's wife that he is on his way home. Such explosions underground were once commonplace in St Agnes.
So many people want to talk to us. Keep going, down the hill past the Post Office (then past the "Fission" Chip Shop) until you come to the St. Agnes Hotel; opposite is St. Agnes Church. You are now in Churchtown, the ancient heart of the village. It was near here, early in December 1756, that some 600 miners including upwards of H G E F www.stagnesforum.com The massive engine house and headgear of West Kitty Mine (Reynolds' Shaft) was visible from Vicarage Road. c.1915 c.1906 c.1908 100 horses and several women gathered to march on Padstow. Corn shortages threatened starvation and there was rumoured to be corn stored there. The next day they arrived at Padstow, plundered what corn they could find and either sold or gave away what they couldn't carry. They stayed all night in the town "huzzaing and carousing", the last not leaving until ten o'clock the next morning. These were hard and wild times...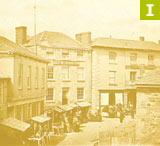 With the development of mining, Churchtown became the commercial heart of the village I with a market, several pubs, hotels, shops, and (next to the church) a bank. Thomas Tonkin, of the manor of Trevaunance, said of Churchtown, "There has been time out of mind, in this little town which consists of about forty houses, a weekly market kept for all sorts of wares, and victuals, except corn, on Thursdays, which induced me in 1706 to endeavour to get a Patent for a market on the said day and two fairs yearly," but a petition from Truro stopped it and St. Agnes never quite became a fully fledged market town. Nonetheless, ordinary weekly markets continued until the end of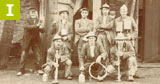 the 19th century, as "Cold Water" Richards remembers, "From the top of Town Hill to the Lytch gate in front of the Church there was a large Market House..but at this period it was slowly dying out." The cobbles in front of several of today's shops hark back to the days when the whole of Churchtown was cobbled and the market standings and market house truly made the place feel like a town.